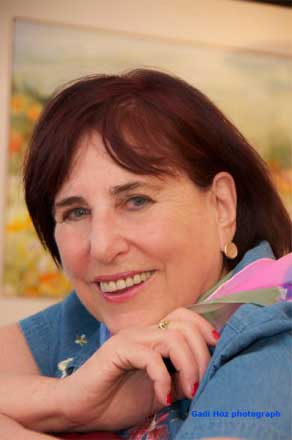 Ziva's art is an expression of her genuine effort to bring joy and beauty into the world and to celebrate the remarkable. She paints in a variety of media, but her passion is to paint watercolour on
YUPO paper
.
Painting on YUPO paper (a synthetic paper with unique properties) may be unusual, but so is the magnificent life that Ziva breathes into her paintings.
Born in Israel, her inspiration often comes from her full life there.
Her passions have found many creative expressions
but it wasn't until she emigrated to Canada, though, that her expression turned to canvas and colour.
With a love for children, with whom she has worked her entire adult life, and for nature, it is not surprising to learn that each of her created flowers is, in her mind's eye, imbued with the character of some of the flowers she has come to know in her human garden.
Almost by accident, and with no formal training, Ziva fell in love with painting, and in particular with watercolour. After sitting through a few classes a friend was taking, she had learned enough, she thought, to pick the right paper, and understood some of the basic principles.
She began painting with abandon!
She was mesmerized with the transparency, the play of dark and light, with infusing her painting from the tremendous variety in nature -- with infusing her paintings with life.
She has become a prolific artist; she paints every day. While she hopes people will enjoy her work, it is the creative process that draws her: to be able to start with a white canvas and breathe life into it. She paints to paint.
A woman of strength and charisma, Ziva is an artist, a mother of two, a grandmother of three, and a friend to many both young and old. You might not notice it at first in her paintings, but her life has not always been full, or happy, and certainly is not always easy. If you pay attention,
you will notice the sort of flower that has her heart
; it's the one struggling amongst the stones, on a thorny dry thin patch of nothing, rising elegantly and spreading its beautiful blossom for everyone to see.